Pure Cold Pressed Hemp Seed Oil – Pure, Natural & Unrefined For Hair and Skin care- 30ml
• Moisturizes skin and hair without leaving a greasy residue
• Helps to reduce wrinkles and fine lines
• Contains anti-inflammatory properties that help to reduce Acne and pimples
• High in omega-3 fatty acids which promote healthy cell regeneration
• Helps to protect the skin and hair from environmental toxins
• Contains vitamin E which helps to protect against sun damage
• Contains vitamin A which helps to reduce acne and blemishes
• Helps to promote hair growth and reduce hair loss
• Helps to reduce split ends and dryness
• Full of proteins, which can make hair thicker and fuller.
• Provides a natural shine and lustre to hair.
• An effective moisturizer and conditioner, which can help to reduce frizz and split ends.
Mystic Pure Ayurveda Cold pressed hemp seed oil is a natural oil that is extracted from the seeds of the hemp plant. This oil is rich in essential fatty acids, nutrients, and antioxidants, making it an excellent choice for both skin and hair care. It is noncomedogenic, so it won't clog pores, and it has a light, nutty scent. Hemp seed oil is known to help soothe skin irritations and can help reduce inflammation and redness. It can also be used as a natural moisturizer and can help to protect the skin from environmental stressors. Hemp seed oil can also help to nourish and hydrate hair and scalp. It is an excellent source of omega-3 and omega-6 fatty acids which can help to promote healthy, strong hair.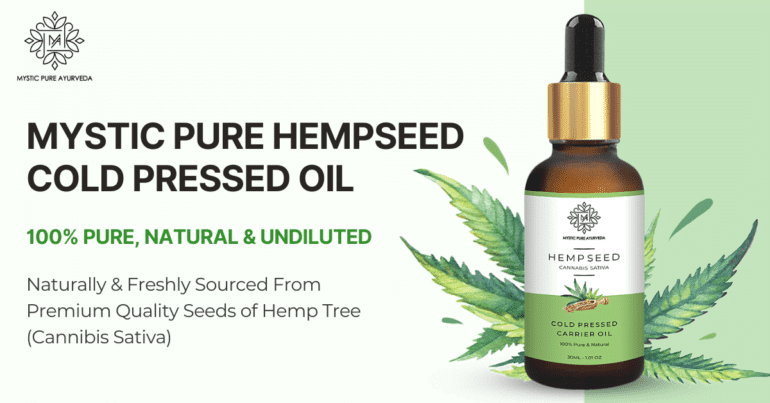 How to Use For Hair and Skin
For Hair:
1. Use a few drops of cold pressed hemp seed oil as a leave-in conditioner.
2. Massage a few drops of oil onto your scalp to help stimulate hair growth.
3. Use a few drops of the oil to smooth frizz and add shine to your hair.
For Skin:
1. Apply a few drops of cold pressed hemp seed oil directly to your skin.
2. Use the oil as a moisturizer for dry skin.
3. Massage the oil into your skin to help reduce the appearance of fine lines and wrinkles.
4. Add a few drops of the oil to your facial cleanser to help keep your skin hydrated.
FAQS
Is hemp seed oil good for acne?
Yes, hemp seed oil is said to be beneficial for acne-prone skin. It is known to have anti-inflammatory properties which can help reduce redness and inflammation associated with acne breakouts.
What should I look for when buying hemp seed oil?
Look for cold-pressed, organic hemp seed oil that is free from any additives or preservatives. This is the best way to ensure that you're getting the highest quality product.
Does hemp seed oil have any side effects?
No, hemp seed oil is generally considered to be safe for most people. That said, it's always best to patch test before using any new product.
Questions and answers of the customers
There are no questions yet, be the first to ask something for this product.